Compamed 2023 will take place from November 13 to 16, 2023. Sommer GmbH will again participate in the trade fair and present the latest developments in medical technology.
Sommer GmbH offers high quality solutions in the fields of heat shrinkable tubing, medical tubing, GFC tubing, special cable assembly, clean room cutting service and hot stamping.
At our booth you can see and touch a wide range of products for the following applications: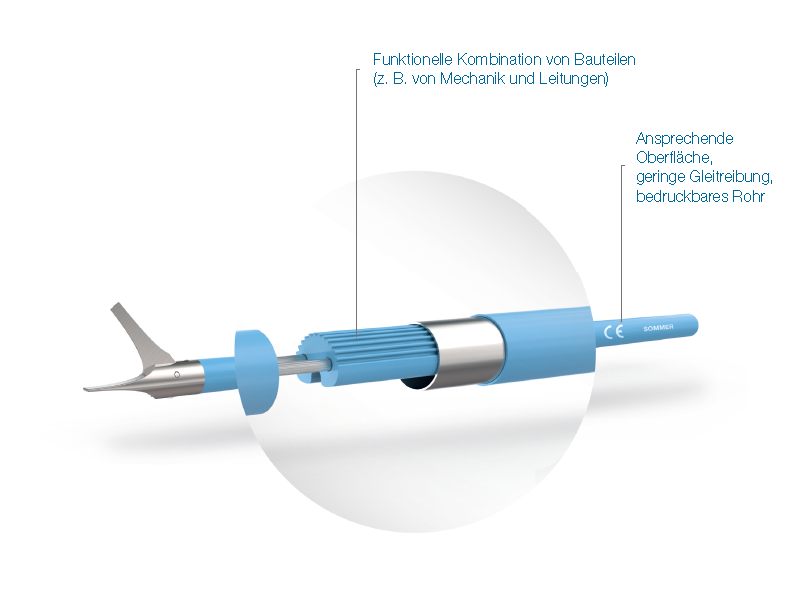 Minimal invasive surgery
In minimally invasive surgery, Sommer offers a comprehensive product portfolio, such as
thin-walled shrink tubes and multi-lumen tubes in part sizes. Glass fiber composites
in the form of tubing or multilumen constructions, can combine several shaft instrumentation
functions with each other. These hoses provide high flexural stability as well as insulation and
low sliding friction. They can replace metal tube shafts and additionally enable applications in
NMR (nuclear magnetic resonance).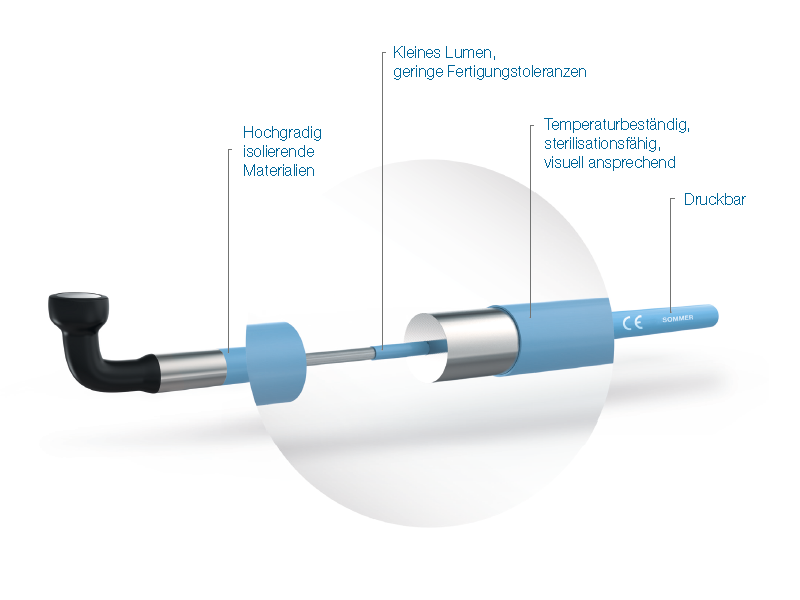 HF-Technology
Our HF products and solutions address important functional elements in monopolar and bipolar
applications. The high dielectric strength and heat capacity of the materials are crucial.
materials, which must be maintained even under repeated use and sterilization. In particular
in complexly designed instruments, laminated glass fibers can combine several functions.
Shrink materials with high insulation properties give components a visually appealing appearance.
Components can also be marked with labeled shrink tubing.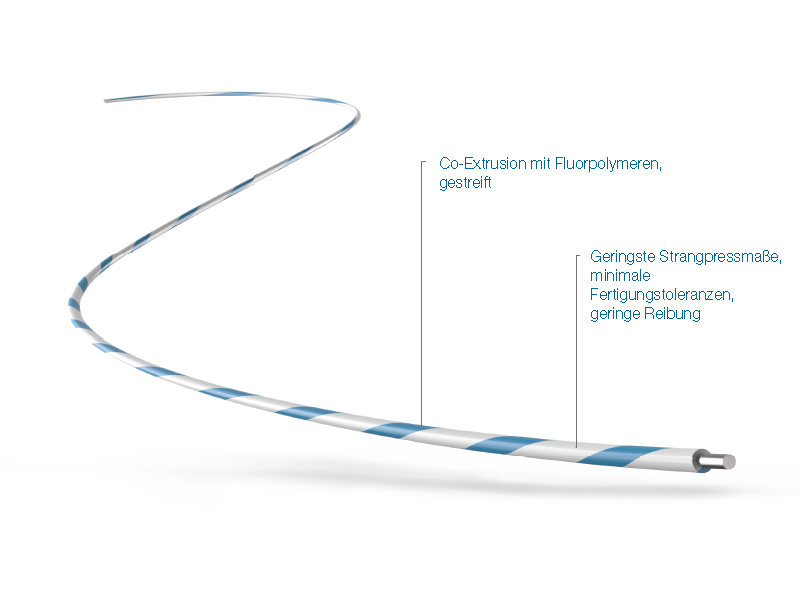 Endoscopy
Our endoscopic products and solutions are made from fluoropolymers, high-performance polymers and
as well as high dielectric materials. For endoscopic applications, we supply thin-walled
tubes with very low manufacturing tolerances. In addition, the use of thin-walled,
reinforced hoses offers high kink resistance and flexibility. Through the use of
multilumen hoses, both the arrangement and functional separation of components can be elegantly achieved.
can be achieved elegantly.

Catheter production
Chemically inert heat shrinkable tubing, used specifically as a production aid in the manufacture of
catheters, provide safety during laser and heat welding, resulting in improved
production efficiencies. Multilumen tubing, which is also available in co-extruded and/or
tapered extrusion, offer tremendous functional expansion for new catheter developments.
Thin-walled, heat-shrinkable, adhesive-coated tubing can be used for the production of
prototypes as well as for normal production.
Comprehensive services
Guaranteed individual delivery conditions and special labeling according to your specifications
Professional management of the supply chain, e.g. warehouse management
A wide range of additional services thanks to our high-performance machinery, e.g. cutting, slitting and
printing – also on fluoropolymers
Combined different manufacturing processes for an optimal end product
Personal advice from our sales engineers on site
Products:
Heat shrinkable tubes, hoses, multi-lumen tubes, thin-walled tubes, profiles
Co-extrusion: multilayers, strips, lumen liners
Hump hoses
Cables
Materials:
PEEK, PEI, PSU
PTFE, ETFE, FEP, PFA
Polyurethane
Pebax
PA
LDPE, HDPE, PP
and many more
Visit our COMPAMED Trade show Booth
HALL 08A STAND 8AH03
Contact us and download your admission code for free entry to COMPAMED.